ADNAN TARSHA
Kyokushin Instructor Biography
---------------------------------
Adnan Tarsha is a famous Kyokushin instructor. He is the Founder of Kyokushin style in Saudi Arabia in 1976. He is the branch chief of International Karate Organization Kyokushinkaikan since 1982.
In Lebanon:
Adnan Tarsha from Tripoli, Lebanon. Has started his way in Martial Arts in 1972. The beginning was to learn the art of Tae Kwon Do with the Lebanese Instructor Ahmad Abu Khazaal, and because his perseverance and dedication to training therein; has taken quick progress and became better than the students began months earlier, then he became the instructor in the absence of the instructor while is still in the Green Belt. Then made Demonstration in Tripoli and France in 1973 [1].
H

is instructor traveled to Japan to

learn

t

he style

Kyokushin with Master Oyama the founder of this fighting style,

t

he

n

returned to Lebanon as

a

branch chief of this

new

fighting style

which has been approved by

all the students to change to

it

and

began

intensive training

for

this new fighting style.

The instructor stopped coming to Tripoli from Beirut and appointed Tarsha as representative of this style. In this time he was in Brown Belt, he began teaching his students in various outdoor places. He have been invited to present demonstrations on various occasions attended by many audiences. A person enthused and presented to him a place to train in it, so he opened a training hall and began his activities there.

At the same time, he

continued his training with his instructor in Beirut

until he got his

B

lack

B

elt (1st Dan) certificate from Japan in 1974.

Then

h

is

fame increases

d

ay after day
in Tripoli

and

a different authorities

invites

him to present Karate demonstrations in their festivals, until he could organize by himself the biggest

Karate festival

on the biggest theater in

Tripoli in

1975, were he presented a series

of

difficult and dangerous demonstrations which delighted the audience and raised their interaction.

A number of

newspapers and magazines published interviews with him and reports about him
[2]
, and several authorities

requests from him

to train in their places.

Then

in 1975

he participated by a team of his students in the

Lebanon Championship

on the theater of UN

E

SCO in Beirut, and presented a demonstration

in this

championship, as well as

took t

he

role of

judge.


Founder of Kyokushin in Saudi Arabia:

In the year 1976, and after the fame of Adnan Tarsha increased [3] in the world of Kyokushin and Karate [4] he informed his students that he will travel for three weeks

to perform Umrah. He traveled to Makkah and performed Umrah with some friends who took him to the city of Riyadh which God preordained to him to remain there instead of Lebanon. He met several times with Prince Faisal bin Fahd General President of Youth Welfare who enthused and supported him and introduced him to Prince Salman bin Abdulaziz Governor of Riyadh region, and also provided him with a letter to the President of the Saudi Karate Federation to cooperate with him in the training field. This federation was established only few months ago in 1975.

In the same period, Adnan Tarsha met the President of the Federation who explained to him that the federation does not allow more than one style and their official style is "Shotokan" and therefore can not accredit his style "Kyokushin" so that there isn't two different styles.

The meetings repeated between the two men several times, and in one of the times the President of the Federation invited him to join the training of the new Japanese instructor, to experiment his training with the other instructors and students; He joined the training with the Japanese who had been fought the instructors and students and hit them strongly and defeated them all to prove his strength and skill in front of the audiences. When the turn came to Tarsha to fight with him, it happened what the Japanese didn't expect, while it expect their fight to be for a few seconds then to change with another player, but the duration of their fight was for a long time which made the other players to stop fighting and sit down for a rest and to follow up their fighting. The Japanese failed to defeat him and repeating what he has done with the others where he faced a different way in the fighting prevented him from achieving what he wants and made him initiative to stop and to end the fighting that drew the attention of audiences. God Almighty preordained the fighting of the Japanese with him to be a reason to open a new and very important way in his life; among those presents there was a prince of the Saudi royal family who joined the training with the Japanese; left the training with him and asked Adnan Tarsha to train him in a private lesson in his palace, and another three princes joined this lesson. Since then he began his way in the private lessons and teaching princes and the other people, and began to spread his style "Kyokushin" which was not known nor practiced in Saudi Arabia; thus became the founder of Kyokushin in Saudi Arabia and the first person who introduced it in this country and taught it in 1976.

In 1981 he began to give a unique private Kyokushin lesson where Prince Abdulaziz bin Sattam son of the deputy governor of Riyadh region asked him to give him a lesson in the Eastern province of Saudi Arabia where he started his studying at King Fahd University; so he started to travel by plane two flights every week from and to Riyadh to give this lesson which lasted several years until the prince graduated from the university and continued his training with him in Riyadh.
In Japan:

In 1982 he traveled to Japan to train with Master Masutatsu Oyama founder of "Kyokushin". Master Oyama received him in the headquarter in Tokyo in a very well reception, and organized a Special

Welcome Demonstration on his honor where a number of Japan and world champions like "Royama", "Nishida" and others performed a Karate demonstrations. An Arabic [5], English [6] and Japanese [7] magazines wrote about this event and made interviews with him [8]. He stayed in Tokyo more than a month training with Master Oyama who also ordered Japan champion Senpai Matsui (2nd Dan) to train with Tarsha in a private lessons alone in addition to the black belt class where both of them were training together with Master Oyama. (Matsui became in 1987 the World Champion, then became the successor of master Oyama after his death in 1994). In this training trip Adnan Tarsha got the (3rd Dan) in Black Belt, which was supposed to get it some years ago, but circumstances did not allow it.
When he decided to travel from Tokyo, Master Oyama prepared a Farewell Ceremony for him and presented several gifts to

him. Master Oyama chosen his successful picture and published it on a large full page in the 1983 year calendar of the International Karate Organization "I.K.O." which distribute to the branches of the

organization around the world. Master Oyama continued sending him a special invitations to attend the World Tournaments in Tokyo as a special guest, and nominated him in 1990 to be the chairman of "I.K.O." in the Middle East in addition to being a "Branch Chief" of this organization and has published his photo in the Kyokushin Power Map in the world as a candidate for the chairmanship of group of Middle East branches chiefs. And also has published his photos for the second time in the 1990 year calendar. In 1996 Adnan Tarsha was appointed as "I.K.O." Advisor in the Middle East, and In 2003 was appointed by "I.K.O." as the Middle East Team Manager to the World Tournament in Japan.
Various Activities:
On the other hand, and in 1983, Adnan Tarsha produced the first sport work of its kind in the Arab world [9], where he produced two programs of exercises [10] on video tape [11]: One for all kind of people and the other for pregnant woman [12]. Then in 1988 he began presenting his program "Come and Train" in the Saudi Arabian Television, and was also the first exercises program of this kind in the Saudi TV [13].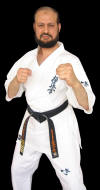 The instructor Adnan Tarsha is teaching Kyokushin Karate in different public and private places, and organizes camps and championships. He and his sons are also presenting demonstrations on different occasions, participates by teams of his students in the local, regional and international championships. He is the Supreme Judge or Chairman of Judges Committee or a member of Supreme Committee in the championships in different countries. In 2001, he has published his own website www.adnantarsha.com which is about his variety of activities such as: His published Islamic books, his activities in Karate, his video programs of exercises, his sport program in the Saudi Television, his movie films, a various video clips and scenes about these different activities and various other topics [14].
Shihan Adnan Tarsha (8 Dan) is now a Branch Chief by Japan since 1982, and the Advisor of "I.K.O." in the Middle East. He is known as the oldest Kyokushin instructor in the Middle East, and Founder of Kyokushin in the Kingdom of Saudi Arabia in 1976 [15], and has three sons teaching Kyokushin Karate in different places: Muhammad Tarsha, Abdullah Tarsha, Abdulaziz Tarsha.